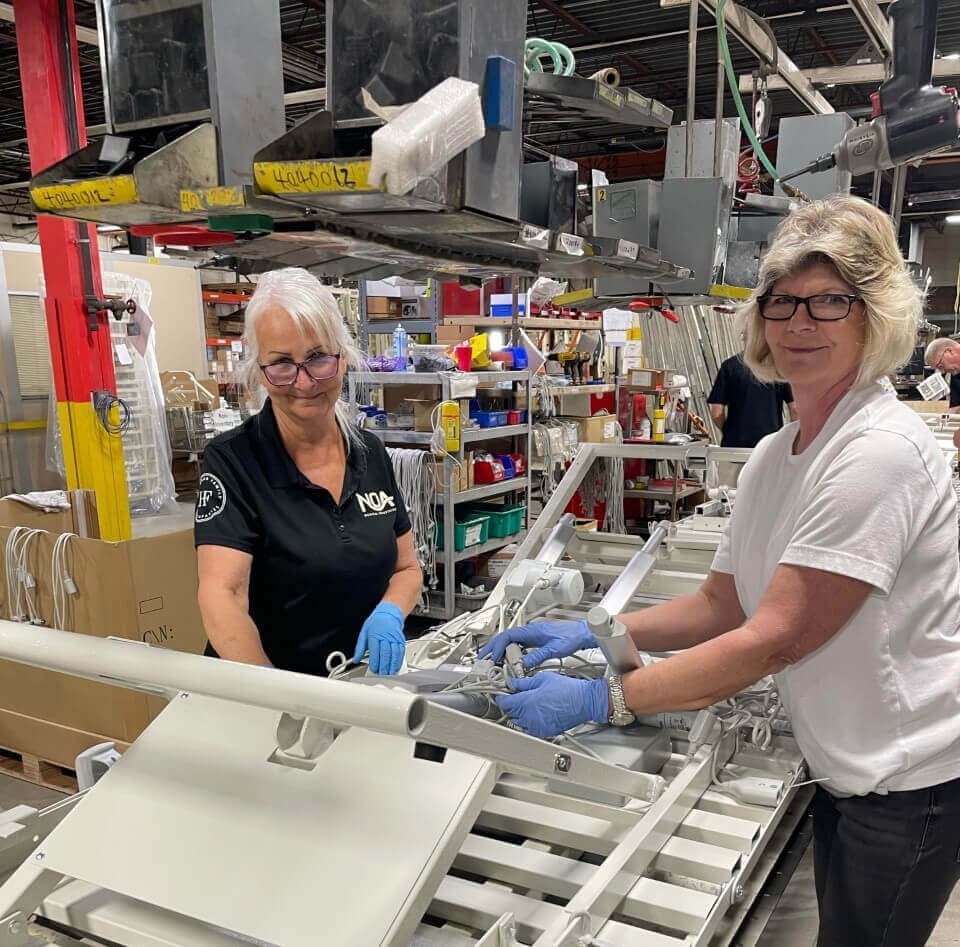 During the Second Industrial Revolution, when rapid technological expansion occurred due to advances in iron and steel, adjustable beds like those used in hospitals were invented. A hundred years later, improvements to mattresses, along with communication and monitoring devices, would advance long-term and acute care bed design exponentially.
As The Hoffmann Family of Companies were continuing to expand their portfolio of companies they began paying attention to Missouri-based NOA Medical Industries, a maker of beds and sleep safety accessories for the long-term and Acute care markets located in Washington, MO. NOA Medical Industries had recognized that by 2030, more than 73 million Baby Boomers would be over age 65, and both the short- and long-term prospects for meeting the needs of the market and the elderly patient population were apparent. The Hoffmann Family of Companies saw this as an opportunity as well and purchased NOA Medical Industries in 2021.
With a changing market and new focus on patient outcomes, the role beds play in our healthcare delivery system is significant for both patients and care workers. The reality is that an estimated 70 percent of seniors will need some type of long-term care. Of those, 20 percent will need care for longer than five years. Patient care and safety are greatly enhanced by quality beds. For over thirty years, NOA Medical's focus has been on development, manufacturing, and innovation. So, it was not surprising that when faced with the Great Resignation, a COVID-19 recession, and an increase in retirement among adults ages 55 and older, they looked back to move forward. The same industrial revolution that brought about advances in medical beds had inspired the concept of retirement; prior to that movement, those who were able worked their entire lives.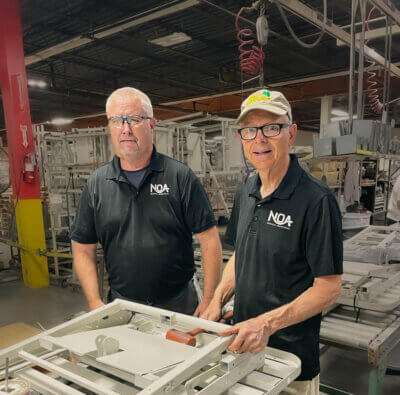 Located in Washington, Missouri, about 45 minutes southwest of St. Louis, NOA Medical President & CEO, Ray Ganz, and Vice President of Sales & Marketing, Steve Sauerwein, were not feeling the urge to retire as so many of their friends and employees had done during the pandemic. Ray joked that had he retired, his wife would have made him get a part-time job anyway. As Ray shared, "Retirement is overblown. If one is healthy and enjoys working—what is the point?"
Our culture created not only retirement but also the idea that one generation should give way to the next. But the reality was that young people's different expectations of jobs and careers were keeping them from applying for open manufacturing positions. Thinking they were not alone in their beliefs about retirement, Ray and Steve ran a print ad in the local newspaper with the tagline, "Get Off the Bench & Get Back in the Game." For the first couple of days, nothing happened. Then, the faucet turned on, and they soon had many calls and applications coming in. Unretirement was a game changer for addressing the workforce shortage. Immediately, the company made seven new hires. Ray shares, "There is a different level of attitude on the plant floor now. Managers call it: 'Unity, Because of Maturity.' Productivity has increased." 
The average worker puts in five, four hour days a week. Unretired workers receive the same wages as regular employees, including holiday pay. Even with a four-hour shift, seniors are finding that they enjoy all the energizing benefits of working—that they still have value in the workplace. The younger workers have noticed that this new group of employees gets to work as soon as they get to the plant, their energy is high, their attitude is good, and their work ethic is impeccable. This combination of soft skills has exceeded all of Ray's expectations. In fact, two of NOA's previously retired employees have come back to work. 
"This program has shown that as our workforce becomes older, they can, and want to continue to be more productive."
Steve says unretired employees will absolutely be a part of the strategic hiring process moving forward. "This program has shown that as our workforce becomes older, they can, and want to continue to be more productive," he says. For Ray, the program is the cure to that "moment of uselessness" so many new retirees feel. "A four-hour shift is a great hook," he shares. "Workers can choose 6-10 or 10-2, making $300 a week. It rounds out people's lives." He continues, "There is no cap on the number of employees in this program. From a financial standpoint, it is good for the company."
Young people's misconception that manufacturing is dirty, loud, messy work is being replaced by these parents and grandparents sharing the reality of assembling electrical parts at work. NOA's employee culture additionally aids in changing beliefs throughout the community at large. All employees are included in company BBQs, Thanksgiving, and Christmas parties. They all receive bonus gift cards and are sent home early on holidays with pay. And Ray and Steve agree, "We want to include them. It solidifies our commitment to the company and to our employees. Unretired workers are a part of the team." 
All across the country, suppliers to the senior care industry are racing to address demand caused by a rapidly aging population. Currently, labor shortages remain the greatest long-term obstacle to meeting this need. Expanding the labor pool by taking an innovative approach to retirement has big implications for the entire U.S. economy, not to mention individual household budgets. The Organization for Economic Cooperation and Development (OECD) estimates that building multigenerational workforces and giving older employees greater opportunities to work could raise GDP per capita by 19 percent over the next three decades. 
Comprehensive government policies can ensure that this pipeline of talent is available. The Age Discrimination in Employment Act (ADEA), passed in 1967, has been shown to be more effective in addressing terminations than hiring. By educating policymakers with examples set by companies like NOA Medical Industries, we can reduce discrimination and foster cross-generational community and connection. Collaboration between public and private investment can ensure funding is available to reskill and upskill older workers so they not only remain employable as long as they wish to work but also have the support they need to be successful.