UV robots have moved from being a bright idea to the right idea in senior care.
WHY IT MATTERS:
Autonomous robots address staffing shortages and reliance on traditional supply chains for disinfectants.
By augmenting the work of human care workers, robots can improve the health of those living and working in senior care.
Policymakers must ensure all senior care communities have access to new infection control technologies through state and federal funding.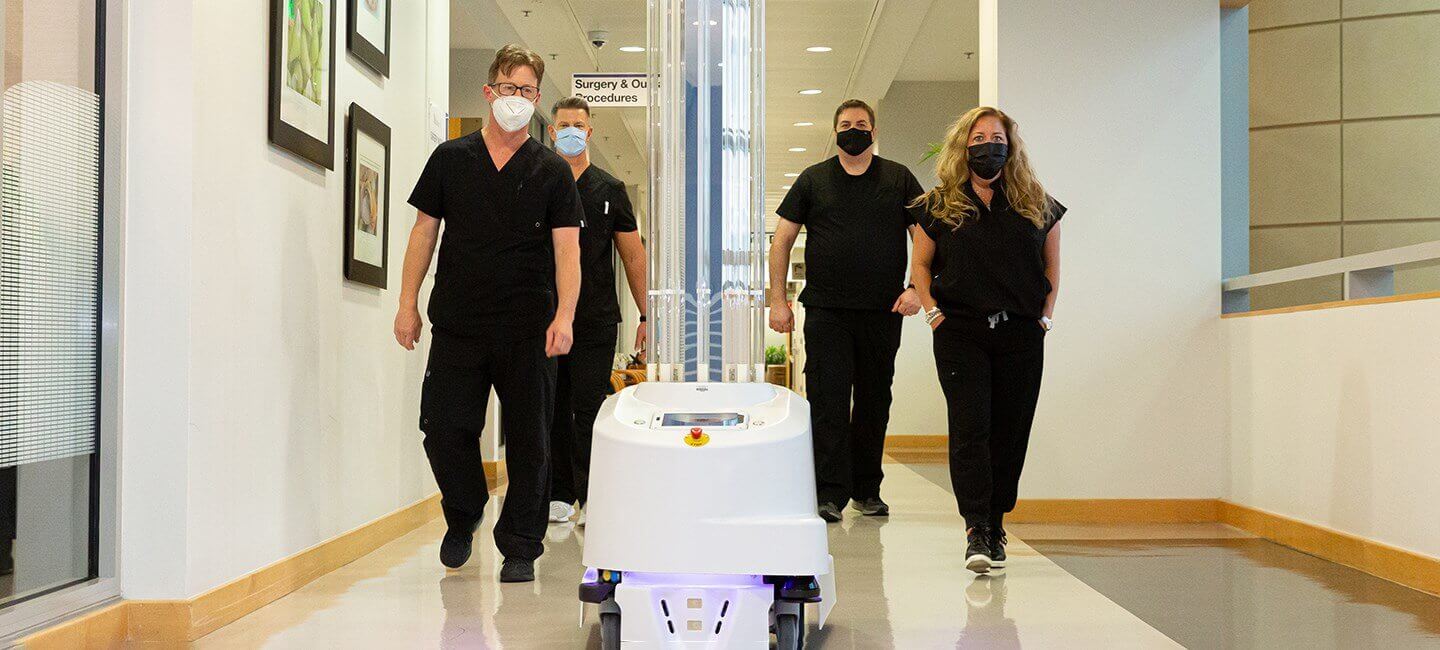 These are unprecedented times for the senior care industry. Facing historic workforce shortages exacerbated by the ongoing battle against infectious diseases, increased immunity to antibiotics, and a rapidly aging population, the day has arrived when technology must play a pivotal role in the senior care environment. A research report from Stanford University shares that the Japanese government began to provide robot subsidies to skilled nursing facilities starting in 2015 to address their shortage of care workers. By 2016, 15% of the country's nursing homes had adopted robots in some form or another. Findings suggested that robot adoption increased employment in senior care communities by augmenting the number of care workers and decreasing staff turnover. 
Here in the United States, COVID-19 exposed the challenges senior care communities face in fighting highly infectious diseases with chronically inadequate underfunding and limited resources. The pandemic also pushed forward the adoption of new technologies by years into our senior care communities. We have known that ultraviolet (UV-C) light kills microbes since the early 20th century. UV robots are one such innovative advancement that came into communities during the crisis as a means to disinfect, as they significantly reduce bacteria, fungi, viruses, and other clinical pathogens in a single cycle. HomeLike Solutions, based in Florida, is a company that partners with senior care communities to provide UV robots. UV-C is the portion of the invisible light spectrum these disinfection systems use. A fully self-driving robot can emit concentrated UV-C light onto high-, medium-, and low-touch surfaces to complement care workers' normal cleaning routines. These robots can reposition themselves, allowing them to get close enough to all critical high-touch surfaces to obtain greater than 99% disinfection during the disinfection process. This is important because UV-C is strongly absorbed by the air, and also disinfects the air. For consumers and policymakers focused on preparing for future pandemics and supply chain shortages, UV robots can be a valuable tool in times of limited traditional surface disinfectants.
"I'm pleased the City could step up with a grant to help them with innovation to keep their residents, and their families who want to visit, safe."
HomeLike Solutions partnered with James L. West Center for Dementia Care in Fort Worth, Texas, to make it the first senior care community or healthcare facility of any kind in the United States to deploy a full 360-degree suite of UV innovation solutions. The center welcomed more than a UV robot. A UV-C mobile tower from UVC Cleaning Systems, Inc., was also adopted for tightly confined spaces such as restroom stalls and closets. UV-C chambers helped disinfect small items such as cell phones, keys, laptops, and eyeglasses at main entry points. UV-C shoe sanitizing stations eliminated bacteria, viruses, and fungi on shoes in seconds (also at points of entry). UV wands aided in disinfecting keyboards and other hard-to-reach devices and spaces. A bipolar ionization system was installed in the HVAC system to purify the air in the entire building (air quality in senior care communities is a growing field of technology since vulnerable residents spend the majority of their time indoors).
Funding to purchase the high-intensity UV light technology was provided by the City of Fort Worth via the CARES Grant Program. When asked about the investment by the City of Fort Worth in the local press, Mayor Betsy Price cited James L. West Center's leadership and expertise in supporting persons living with dementia and Alzheimer's throughout the nation. Mayor Price shared that the dementia care center "adds so much to the fabric of our community. Nonprofits like James L. West have been hit hard during this pandemic. I'm pleased the City could step up with a grant to help them with innovation to keep their residents, and their families who want to visit, safe. Their creativity and innovation are bar none among the most aggressive and the best I've seen."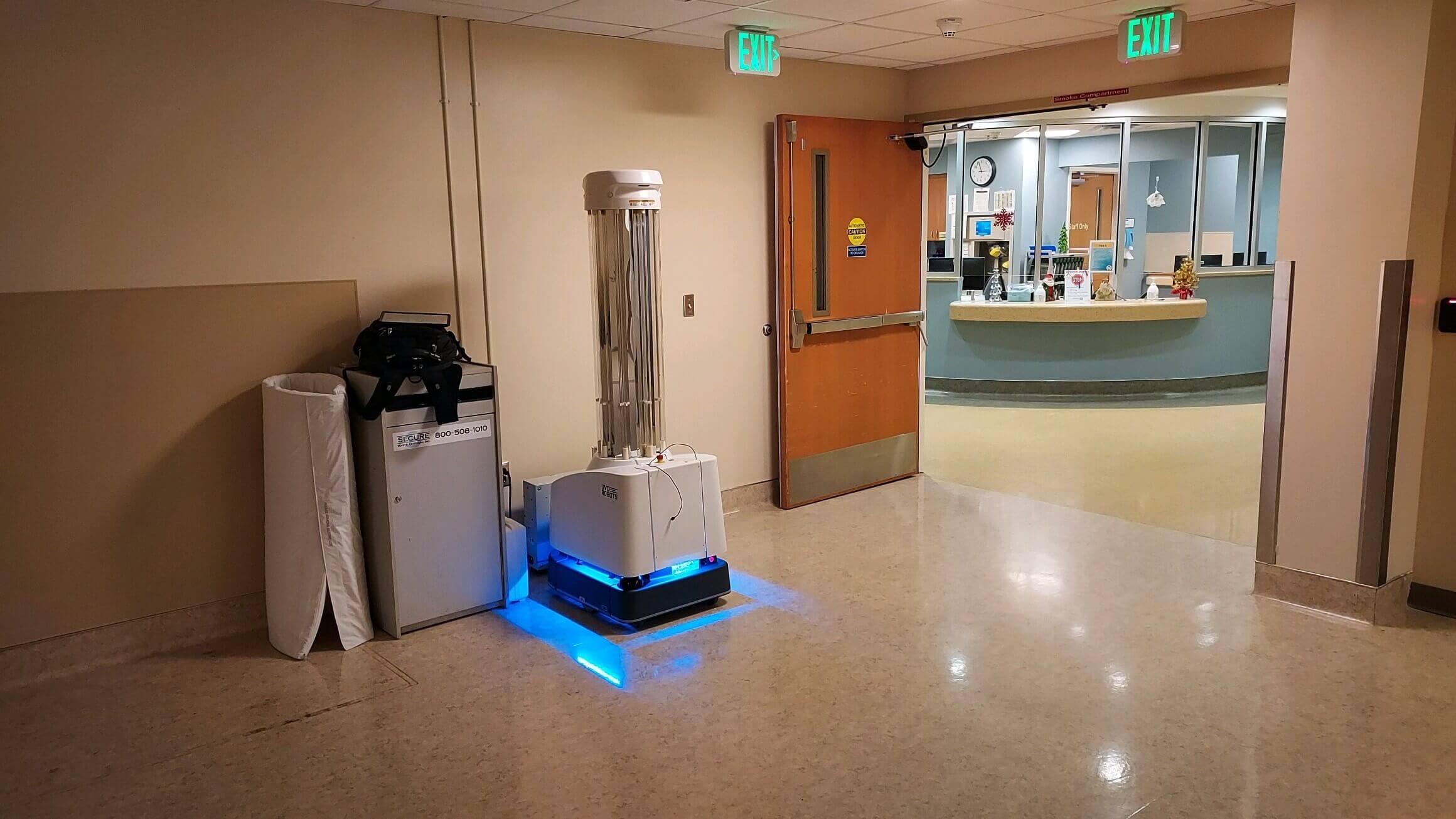 According to a 2021 Antimicrobial Resistance & Infection Control journal article, manual cleaning and disinfection have a larger margin of error because their effectiveness depends upon individuals and their motivation. Manual cleaning is also highly subjective "to local protocols, training, understanding, renewal and staff turnover of cleaning staff, as well as the control and the inspection of their performance." Evidence further suggests that "manual cleaning and disinfection are often inadequate and result in residual contamination. Besides killing microorganisms on surfaces, disinfection robots offer reproducibility by automatically recording the operation parameters of the disinfection process and, by this, can provide quality assurance. Robotic disinfection working without the need for ongoing human presence can go a long way to addressing the 8 million jobs that need to be filled in America's senior careforce.
Given that nearly all persons in senior care communities have physical or cognitive limitations that result in disability, technologies targeted at residential long-term care could potentially reach large numbers of older people with the greatest needs. Isolating seniors is not a viable solution, as it is associated with a 50% increased risk of an individual developing dementia. The number of seniors with Alzheimer's disease alone (about half are cared for in residential care settings) is already projected to increase dramatically from about 4.5 million today to over 13 million by 2050. As these individuals not only lack the ability to follow social distancing rules when infection rates are high, 6 out of 10 individuals with dementia have wandering behaviors—meaning environments need to be regularly accessible to meet their needs. Incorporating robots alongside the senior careforce allows community spaces to be closed to residents for minutes versus hours to clean, allowing seniors to live their lives to the fullest. With no permanent immunity to COVID-19 and a continuing fight against variants, the time has come for policymakers in the United States to provide funding for new technologies in senior care communities across the nation.