Desktop sterilization technology offers sustainable solutions for senior care.
WHY IT MATTERS:
Medical waste will dramatically increase as 426 million people reach age 80 by 2050.
Non-burn waste technologies can address multiple challenges in senior care.
Policymakers must provide incentives for providers to implement innovative technology solutions that can improve resident health, reduce carbon footprints, and save money in the long run.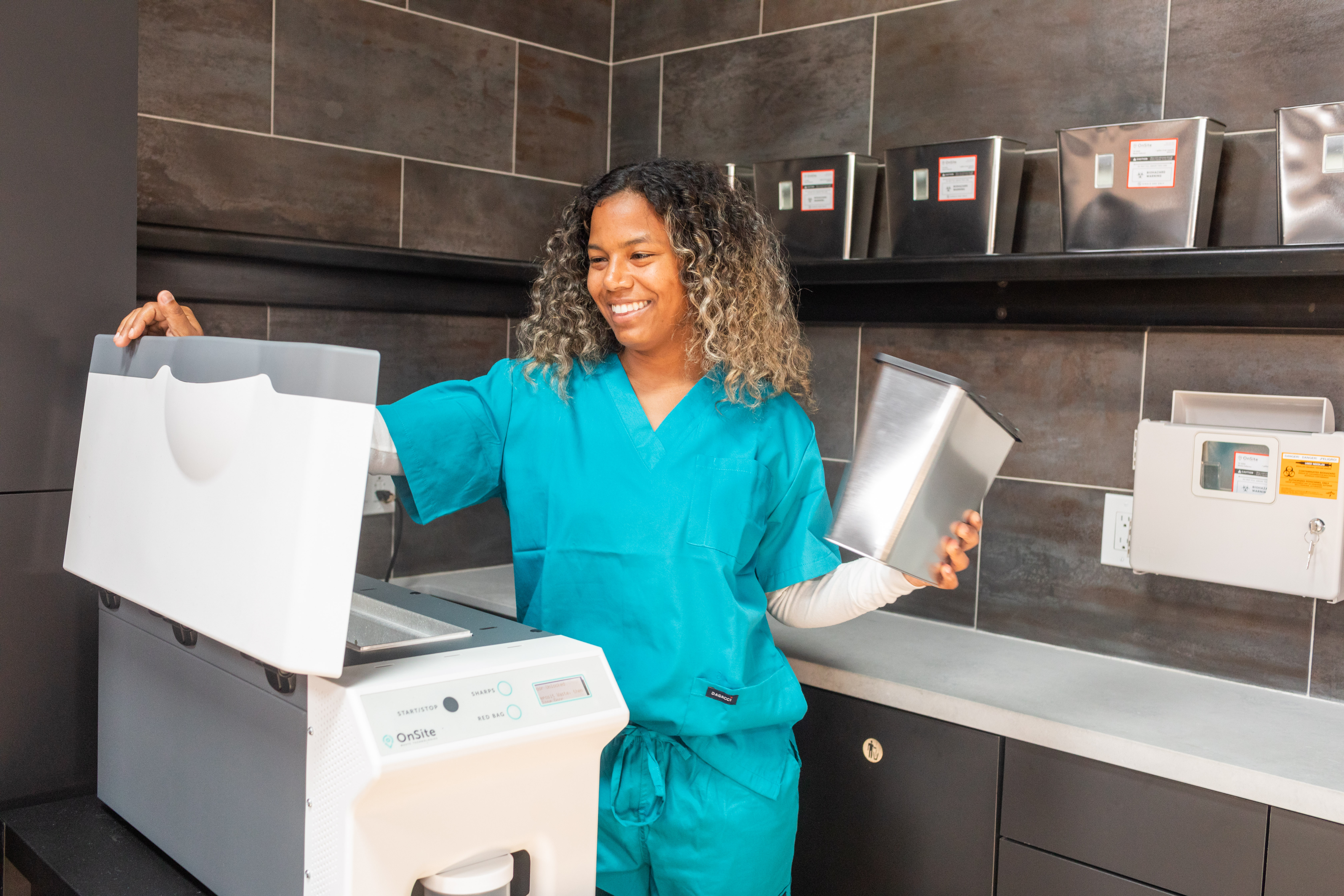 According to the World Health Organization, COVID-19 caused "an unprecedented surge in medical waste," including nearly 6 million pounds of test kits and over 300 million pounds of vaccines. Since items like needles and syringes (sharps) carry a higher potential for infection and injury than any other type of waste, it is imperative healthcare waste be appropriately handled, not only to prevent public health consequences but also to reduce the impact healthcare plastics have on the environment. The paradox in healthcare is that waste generated by caring for one person can damage the health of another.
Although at a lower volume, long-term care communities have the same challenges and healthcare waste considerations as hospitals when it comes to waste segregation and disposal. As waste management is first and foremost a site-specific issue, educating and training staff on waste segregation is key to controlling waste disposal costs and ensuring the safety of residents and staff.  Because sharps pose a laceration and infection risk to other residents and workers, there are metal and plastic boxes designated for sharps disposal in senior care communities. These boxes are emptied by medical waste service companies on a hauling schedule similar to removing municipal solid waste from homes. Sharps are considered highly hazardous healthcare waste and are subject to government regulation. 
As a result of the nationwide lockdown, commercial waste disposal dropped significantly during the pandemic, while home disposal rose. Long-term care communities were hit hard with an influx of additional medical waste given their unique status as both a residence for seniors and an employer of medical staff. This waste is primarily regulated by state environmental and health departments but also by some federal guidelines. The Environmental Protection Agency (EPA) started out the pandemic by granting some compliance flexibility due to worker shortages. By 2022, however, fines increased for "non-compliance in regard to hazardous waste disposal, including long-term care centers that are subject to regulations provided by the Resource Conservation and Recovery Act (RCRA)." Increased workflows along with reductions and turnovers in staff made monitoring waste segregation an even greater challenge for senior care staff and administrators.
Given that the senior care industry is facing the worst workforce shortages in healthcare, it is imperative that policymakers and providers work together to reduce operational expenses so that senior care wages can be competitive and staff can spend more time with residents on direct care.
COVID-19 created a new interest in sustainable solutions for senior care. One company that recognized multiple challenges in the senior care industry was OnSite Waste Technologies in California. They knew their desktop sterilization technology had the potential to revolutionize senior care waste management. Today, their TE-5000 empowers senior care communities to treat 95% of their medical waste in their own building — with the push of a button. This new level of site control reduces carbon emissions by cutting down on traditional hauling schedules, simplifies waste workflows on-site, and mitigates risk of personal injury or fines.
In addition, the TE-5000's smart features automatically log every sterilization cycle and are available in an online portal for regulatory audits. This is particularly important for states that require sharps waste pick-up every 30 days. This same data can be used to monitor staff compliance and prompt administrators to reassign training if there is a need for improvement. Senior care communities that switched from traditional hauling services to adoption of the TE-5000 saw their carbon footprint reduced by 80%.
Joel Ramirez, Chief Medical Officer for Camarena Health (one of the largest providers of Medicaid services in California), shared that his center saw "cost savings up to 70% after taking control of processing their own medical waste" and "workflows improved, allowing staff to engage more with patients." Given that the senior care industry is facing the worst workforce shortages in healthcare, it is imperative that policymakers and providers work together to reduce operational expenses so that senior care wages can be competitive and staff can spend more time with residents on direct care.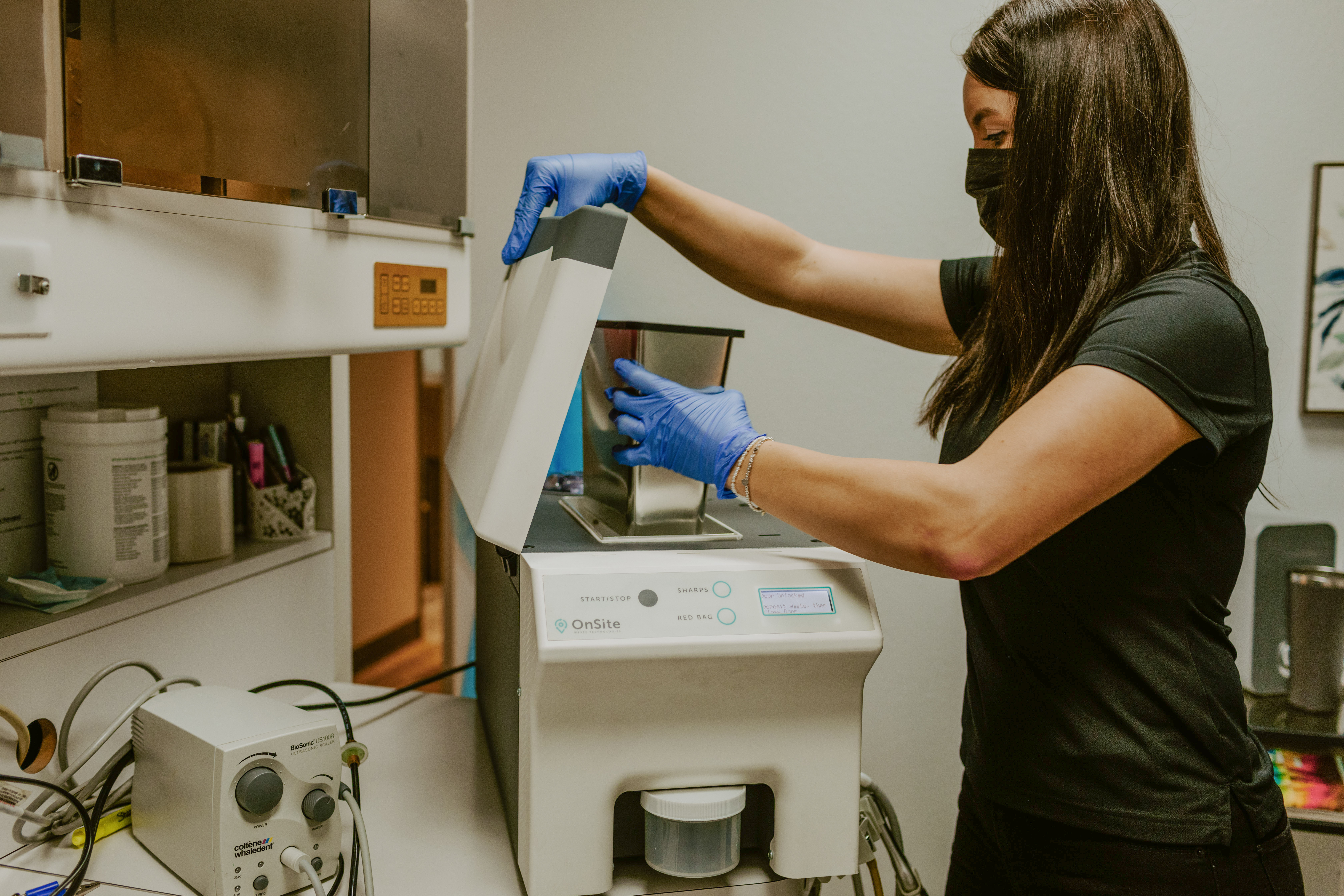 Just as the Triangle Shirtwaist Factory fire in New York helped bring about fire extinguishers and the installation of alarm systems and automatic sprinklers in buildings in the last century, we must use what we've learned during the most serious healthcare disaster of our era to inform regulation and funding of senior care. Non-burn waste technologies such as the TE-5000 offer an environmentally and financially sustainable solution for all senior care communities. However, because how much Medicaid reimburses and what Medicaid reimburses depends on individual state policies, adoption of this cost-saving technology has been limited to skilled nursing facilities in states that do cost reporting. 
With the number of Americans needing senior care expected to double from 14 million to 28 million by 2050 and 426 million individuals over 80 worldwide, medical waste reduction has become a global priority. Health investments (and budgets) that take into consideration the environmental implications ultimately save money, reduce supply shortages, and support infection prevention by changing behaviors. Public financing in this country must ensure new innovations such as the TE-5000 become a standard operating procedure in all healthcare facilities, including senior care communities. This is one way we can address the significant workforce shortages facing the senior care industry and reinforce our national healthcare system for the next crisis.